1.Computer Configuration
Control 4 devices, ordinary configuration of the computer can be competent, of course, improve the computer configuration will help to improve the performance of the software, we recommend: (How to check the computer configuration )
| | |
| --- | --- |
| CPU | i3 (Intel I series) or above |
| Memory | 4G or above |
| OS | Win10 is recommended |
2. Android Device Selection
Total Control is compatible with Android devices of all brands and manufacturers, but to simplify your work and avoid unnecessary debugging processes, we recommend:
a. Choose a mainstream brand.
b. Device OS is Android 4.4 or above.
c. The same device model is better, to improve the accuracy of multi-control.
Tip: You can first acquire a device, connect it to Total Contol and test it correctly, then make a bulk acquisition.
3. HUB and USB cable
The number of USB ports on the computer is limited. To connect 4 devices to the computer, you need a 4-port HUB, connect the HUB to the computer, and then connect 4 cell phones to the HUB. Tip: Please connect the HUB to the USB 2.0 port of your computer (usually at the back of the case). Please choose a good quality USB cable to avoid device drop.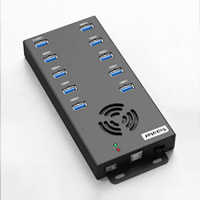 4-port USB 2.0 Hub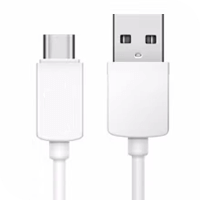 Android USB Data Cable
4. Hardware Installation
Please follow the diagram below to install the hardware. Watch the video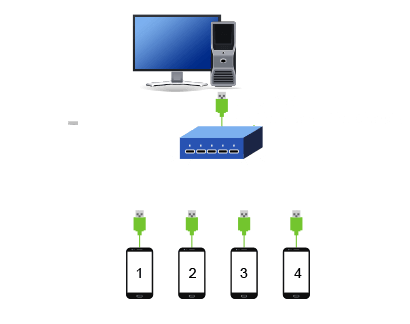 5. Software installation and commissioning
After the hardware installation is complete, we can proceed to the software installation and debugging.
a. Download Total Control, install it on your computer.
b. Turn on the device USB debugging, connect to the computer, and follow the prompts.
View video